I am the best wife.
My first sewn garments of 2014 were not for me. I know, shocking. I wasn't even guilted or manipulated into selfless sewing. Sainted, I am or I should be. I believe the paper work is on it's way to the Vatican. I can hear some of you mumbling "get on with it will ya". Shut up and be patient.
I made more scrubs for The Husband. Three of them. I used my standard Simplicity 2769, now OOP. I;m not sure how many times I have made this pattern, but I believe it is around 20 times. I have transferred the pattern to thin cardboard and have the pattern hanging from a nail in the sewing dungeon. Easier and faster than unfolding tissue and pressing and trying not to tear it to pieces. I do this for all patterns I sew on a regular basis. Sorbetto, for example.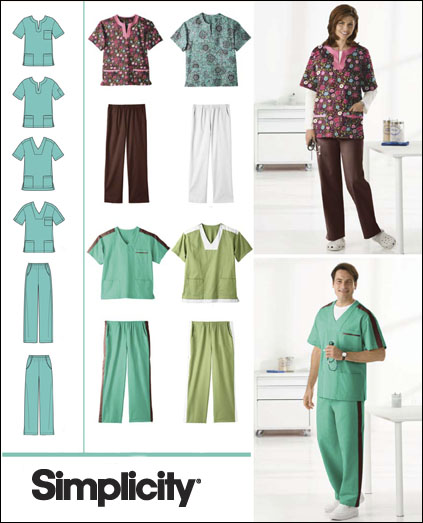 And without further ado, here they are.
This one is made from quilting cotton (from Hawaii) that someone gave my husband. Check out the pattern
matching on the pocket. Dazzling isn't it? I could only match the pattern on the chest pocket.
I hate it when I can't match the prints on all pockets. I think I die a little every time I have to do it.
This one is made from a poly cotton sheet, very heavily on the poly, the fabric is very thin and won't last very long. More pattern matching on the pocket.


This one is also poly cotton with more cotton than Batman, if you look closely at the photo on the right,
you can see the pocket sewn into the side seam.
Sheets are obviously not the best choice for scrubs, but the two sheets I used, were, in a word, Cheap. Like $3 each. The other thing about making scrubs from sheets is the very large print, which translates well to a scrub top. If you ever decide to sew scrub tops, I have an easy, faster way to sew the lower pockets. Ignore the pattern piece for the lower pockets. Make a new pattern for the pocket 9 X 12 inches, bigger pockets are always better. I enclose one side of the pocket in the side seam and do the same for the bottom of the pocket. So you only have to finish and top stitch one side of the pocket to the scrub. It also makes it much harder to rip the pocket off the scrub, something The Husband excels at. If you look closely at the photos you will notice I sew the corners of the pocket on with a satin stitch, again because nice pretty top stitching doesn't hold up to The Husband's abuse. Since I made these two modifications to the pockets, I rarely have to mend his scrubs.
Stashbusting down 2 meters of quilting cotton and 2 sheets. It's a start.