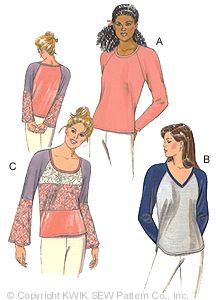 I made view A
Fresh on the heels of my latest make, the less than successful Katherine Tilton V8690, which I feel my choice of fabric was largely to blame for. I decided not to set fire to the remaining four meters in my driveway (sorry Heather), or to put it back in the closet of requirement, or to donate it. I decided to discover if the fabric truly was to blame for the failure of V8690. So I decided the next knit project of 2013 going to be Kwik Sew 2874. Since I already had the sewing machine, the serger and the cover stitch machine threaded, and I knew how to handle the fabric, I figured what the hell.
this is the fabric of the devil
I did discover something while making this top. It is incredibly freeing to sew something when you could not possibly care less about the outcome. Really. For instance, instead of being thrifty while cutting out the fabric so you use as little as possible, I did the opposite. I tried to waste as much fabric as possible. It was fun and I felt like a rebel (I know, it's sad). The remaining scraps are going in the garbage, where they belong.
the shoulders are held in place with blue tack so you can get an idea
of the shapelessness of the garment
I can state without hesitation, if you ever want to make a completely shapeless garment that will make you feel unattractive and will hide all those pesky curves you worked out so hard to get and gave up cheesecake and pizza for, this is the fabric for you. I know ladies, control yourself now. You got to get yourselves some of that. The pattern, oh the poor pattern. It gave it's life for the fabric of the devil. I have no idea what this pattern is like. I can say the directions are good, and it goes together easily, but whether it is wearable and a well fitting pattern, sorry I have no idea. As part of my resewlution to sew knits all year and get competent, I will revisit this pattern at some point this year.
Oh yes, the fabric was in very large part responsible for the massive fail of Vogue 8690, whether it is entirely at fault, I don`t know. I will make it later in the year and get back to you.
So far this
year
month I have made
Vogue 8536
Simplicity 4076
Butterick 5215
Vogue 8690
Kwik Sew 2874
9 more to go, I think I will make my goal this year, don`t you?