The Titanic
Rant mode on.
I joined
The Pyjama Party, hosted by Karen
, and instead of buying the pattern she suggested (Simplicity 2721) I used one I already had, but had never used (Simplicity 5364). I thought there was no need to buy another pattern as really how different could they be, right? They were both just one pattern piece and therefore super easy. I can't speak for 2721, but 5364 is sized huge. Massive. Gargantuan. Titanic. Enormous. Colossal. Voluminous. Capacious. Humongous. Did I mention they fit big? I actually made two pairs, one for me and one for a friend of mine (S). The ones for me I cut according to the sized indicated on the envelope (XL), the ones for my friend I made a size smaller than her measurements (M, I had a feeling). I sewed mine up and they were as I think I may have mentioned a tad big. I then took in the leg seam two inches each side. Still big. At this point I was very close to having a temper tantrum, so I put mine aside and started on S's, thinking as I cut them smaller they would maybe perhaps almost fit. Nope. Even though I should have fit an XL I could actually get the Mediums on my body, I couldn't move or breathe or anything but they were on. That is how big they are. I took her inner seam in two inches each side as well. Still didn't fit.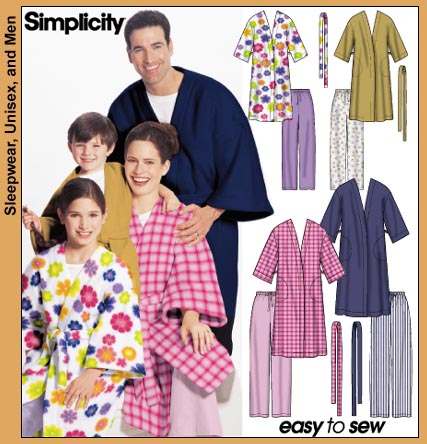 I don`t know why these people are smiling. Notice the lack of a photograph of the pyjamas.
At this point I was seriously pissed and was wondering how someone would go about bringing a class action suit on pattern companies that fuck up the sizing on their patterns. No, I am not kidding. I was that angry. So I decided to take the rest of the day off.
I really didn't want to give up on my pretty seersucka (aka seersucker), So I ironed each pant leg in half, then cut a side seam, making the back of the pants an inch larger than the front. I then sewed up the side seam on each side, taking them in another 2 inches on each leg. This was sufficient to make both pairs work. So all in all I took each leg in 4 inches, and they are not even close to fitting snugly, but you will have to wait until April 28 to see the reveal.
Now I know some of you will say I should have know better and tissue fit these before cutting them out. To you who say that, I say shut
the f
up. Kidding. I agree, if I was making a fitted garment. I am not small (working on it) and when someone who is large takes in a pant leg 4 inches each side and the legs are still loose, that is ridiculous, totally ridiculous. A new sewist would have made these, and not knowing how to fix them, likely would have put them aside and maybe would be discouraged enough to stop sewing.
Why do pattern companies do this, why would they make such a poorly sized and designed pattern, and why do they keep on doing it over and over again. I guess my question is, why do we not hold pattern companies responsible for their products? I can't think of anything else that we buy that we would be as willing to accept a poor quality product with such inconsistent results, and that we would buy again and again. We seem to be willing to accept poor instructions, inconsistent sizing, and if the pattern doesn't work out, we assume it is our fault. I think this is wrong.
BTW, when I say pattern companies, I mean McCalls, Butterick, Vogue (aka Vague) and Simplicity. The smaller independant companies seem to produce a superior product, perhaps because they use multiple pattern testers, and also because they feel accountable to their customers. Clearly the big 4 do not.
Rant mode off.
PS-I love my new PJs and the way they fit now.